Ghostly Guy's

Paranormal Web Page
~~~~~~~
Personal Experiences & Encounters
~ The Whaley House ~
San Diego, California
Date Submitted: November 12, 1998
From: Steve Songalia: Reply-To: songalia@visicom.com
To whom it may concern;
I was browsing the web and thought you might be interested in this picture I took this past weekend. Please feel free to add it if to your website if you want. I would like to get some feedback from other people if possible, because after all the orb and vortex and ectoplasm pictures, this one seems to be a little different.
This house is known for having a lot of history. One of the entities that makes himself known now and then belongs to "Yankee Jim" Robinson, who was hanged for theft. Thomas Whaley himself witnessed the hanging, however still acquired the land and built his house on it. Apparently the location where he was hanged lines up with the current location of the indoor staircase, which would be to the immediate right if entering through the back door in the picture. In the picture left of the white door overhang there appears to be a orange/reddish anomaly, in which I can see a face.
Other entities that consider this home and have made themselves known include Thomas' wife Anna, their baby son, a young neighbor girl who died in the house, and even their dog. I hope I didn't miss anyone or else my next set of pictures may have more fun stuff to see.
This picture was taken 6 November 1998 at around 2:30PM. There was no light source to cause the rays. It was a perfectly sunny day, so my autoflash would not have went off. There was no fog/smoke/clouds to reflect the light to cause the rays, or else they would have been visible without the camera. If in fact these were light rays, most likely they would be visible as bright spots on the ground. It couldn't have been bad film, because I just bought this Canon PowerShot 600 digital camera and it was my first day using it. I can't blame the camera, it's point-and-shoot, no extra lenses, and none of the other 70 or so pictures had anything like this. Therefore I submit this picture to those of you who may know more than me. The "rays" of light are somewhat uniformly dispersed except for a dark area between the door and the left edge of the picture, which made me somewhat curious. After playing with the contrast/brightness using PhotoShop, there appears to be a human figure standing there, blocking the light rays. The figure is consistant with the breaks of the rays of light, and you can see where his(her) elbow, head, and shoulder disrupt the rays. I'm submitting the same picture with the brightness/contrast adjusted (using PhotoShop), and another version with my added outlines.
I am interested in hearing people's opinions, so please feel free to contact me (songalia@visicom.com) -- ----------------------------------------- - Steve Songalia - Software Engineer - Visicom Laboratories, Inc. - San Diego, Ca - songalia@visicom.com
---
** UPDATE **
Mon, 30 Nov 1998:
Hello, You have my permission to use what I submitted. I'm interested in getting as much feedback as possible. Did I originally submit just one .jpg file to you ? Or did I submit three ? Apparently when you adjust the contrast/brightness(I used PhotoShop), there will be a figure of someone standing there(at least that's what many others see as well). I've also gotten comments of a crying baby and a childs face. Anyways, If you haven't gotten three .jpgs from me then please let me know and I'll send them to you, all of which you can use any way you want.
Also last weekend I went back to the Whaley House and took a few more pictures, mostly of that immediate area. It turns out where the "light source" should have been is a roof/ceiling which extends away from the wall up to where the post is, and since it looks like I can see the rays coming from behind the post, I can conclude that those "light rays" shouldn't be there. Also I took a picture of myself posing in the position/location that the "figure" is standing. The rays seem to add backlight to something that has somewhat the same proportions/height as myself. Anyways, thank you for your interest, and please reply. v/r ..Steve Songalia ----------------------------------------- - Steve Songalia - Software Engineer - Visicom
---
Okay folks, any comments? If you've been to the Whaley House and experienced something strange (or didn't experience anything out of the ordinary), please feel free to add to this story. I'll add an additional posting here.
I have one short story to add to this story. In January 1999 I went to a bed and breakfast and the owner was telling me a story. When she was a school teacher in the Los Angeles school system, she took a field trip to the Whaley House, because it's a historical landmark. She said that many of the rooms are open to look into but they're roped off. She was looking in the kitchen when she noticed a soup draddle begin to slowly swing back and forth. But rather than starting off swinging and then swinging less and less with time, it actually started slow and increased within a few seconds. Creepy!
And Steve, please email me any more pictures of the Whaley House you may have, even if it's just the front of the house. Sometimes spirits hide in the pictures and if you look closely at an ordinary picture, you can see something out of the ordinary.
AND NOW, without any further to-do, here are Steve's photos: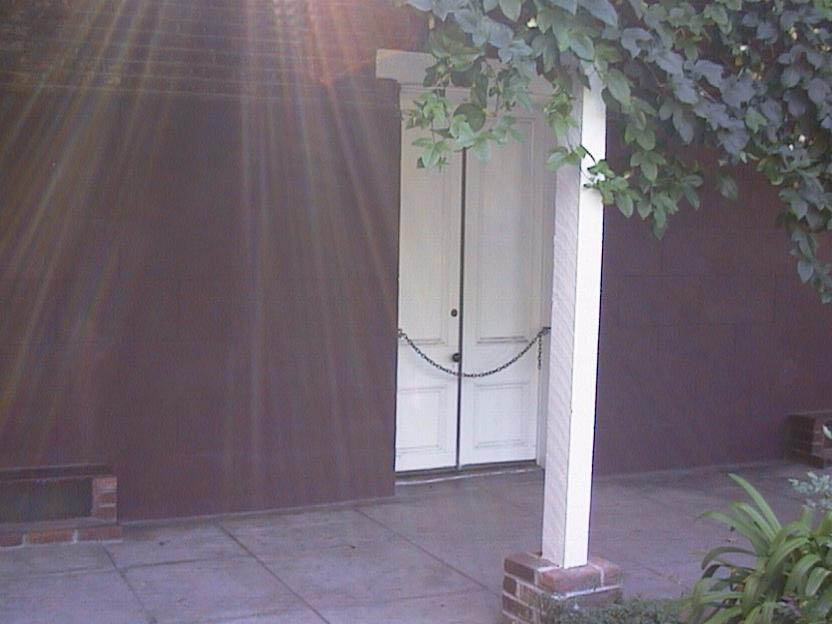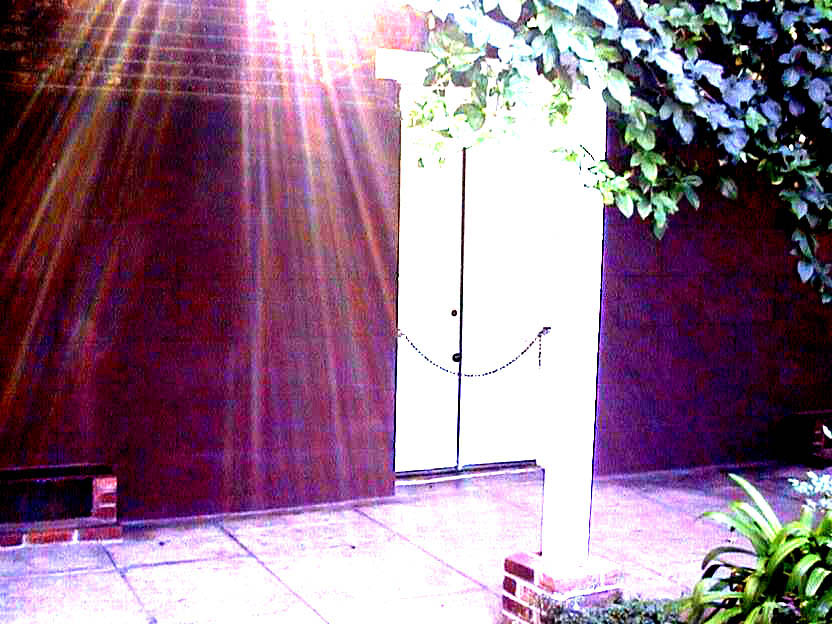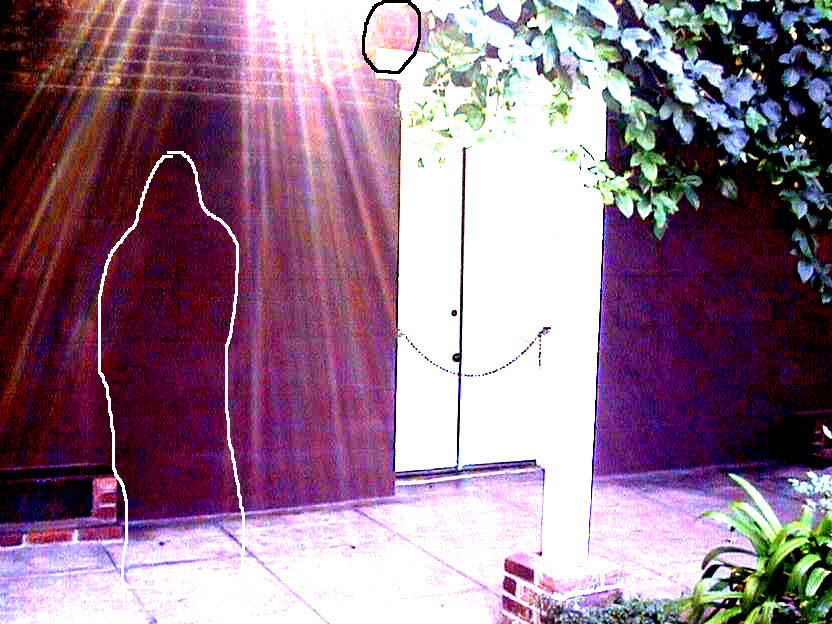 That's all folks...