GHOSTLY GUY'S PARANORMAL PAGE
BODIE, THE GHOST TOWN THAT WASN'T KIDDING!
~~~~~~~~
LOCATION: BODIE is located in the eastern Sierra Nevada mountain range of California, only about seven miles from the Nevada border. It's also about 90 miles south of Lake Tahoe. Bodie is better known as Bodie State Historical Park and was established as such in 1962. It's location in the high mountains (over 8,000 in elevation) makes it one of the coldest places in the continental United States both in summer and in winter. During the winter, Bodie can receive 80 feet of snow easily and the mercury can drop to as low as 30 degrees BELOW zero!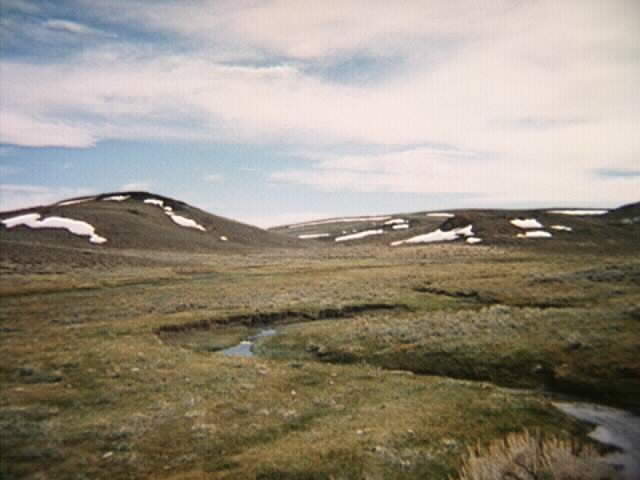 Typical view facing south from main part of town
HISTORY: BODIE was named after Waterman S. Body (pronounced BODEE). The spelling was changed by residents to assure that people pronounced it properly. Body discovered gold here in 1859 but never lived long enough to see his name-sake prosper. By 1879, the town had over 10,000 people calling it home. It's said, however, that by the turn of the century, the gold dried up and so people moved on. By the 1930's, the last residents are said to have left. In fact, some so fast that the mortuary still has original coffins that were never used. Still remaining are 168 buildings, some were built as early as 1849 and remain despite fires that burnt portions of the town.
During Bodie's best days, it was known second to none for the wickedness, badmen, and the worse climate out of doors. Killings were pretty much a daily event (leaving lots of ghosts, of course), as well as robberies, stage coach hold ups, and lots of bar and street fighting. The flue and other communicable diseases also spread throught Bodie, sometimes wipping out whole families within the same week. One myth at the time was when a little girl wrote this statement at the END of her daily diary entry, "Goodbye G-d. I'm going to Bodie" but being that people spread rumors as they did, it soon became "Oh G-d, I'm going to Bodie"; a more ominous statement!
GHOSTS: Now down to the juice, so to speak. If you look at some books on famous haunted places, you'll likely see Bodie as one of those big places to go. During my many visits to Bodie over the years, I've heard lots of ghost stories, mostly told by forest rangers who stay up there both during the summer, and during the harsh winters when they're cut off from the outside, except by hellicopter or snow mobile (and it's a long ride out).
By far, one of the most haunted places within Bodie is the CAIN HOUSE. The Cain House was built by the Cain family in 1873 and lived there with his wife Ella Cody (I'm not sure if she's related to William Cody, or "Billy The Kid"). The house was most recently used as housing for the rangers that work in the State park. There are many stories about rangers waking up to find themselves pinned to their beds. Others claim to see the door open in front of them and then they feel a strong presence. A daughter of a ranger was said to have gone to bed and turned off the light before crawling into bed. As soon as she got into bed, the light came back on. She got up and turned it off and again, after getting into bed, the light came on. She eventually yelled and ran downstairs.
The legend behind the Cain House was that Mr. Cain hired a Chineese maid to help his wife with the daily chores. Mrs. Cain became very jealous beause the Chineese maid was very beautiful and fired her. Apparently, the maid was so ashamed of being fired that she committed suicide.
Another woman claimed to have heard a music box playing but it wasn't found. Tourists claim to see a woman peering out of the upstairs bedroom window.
THE CAIN HOUSE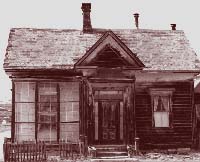 Photo by David Tavres
Another interesting place to see is the cemetary. One grave that stands out is the "Angel of Bodie". As the story goes, a small girl began befriended a miner and followed him around town every day. One day while picking at some rock, he didn't realize that the little girl was right behind him and struck her in the head when he raised his pick behind himself; the girl died. Residents were so saddened by the young girl's death that they purchased a beautiful grave stone for her. This stone stands out in the Bodie cemetary.
One girl was in the cemetary with her father when she began talking and laughing with seemingly no one. When the father asked her who she was talking to, she explained that there was a little girl there by the Angle of Bodie grave. The father saw nothing!
Some tourists claim that they've seen a woman hovering over some graves knitting contently. She wears a white dress.
What I find most interesting about the Bodie cemetary is that you will see entire families who died within days or weeks of one another. Perhaps in death, the gravestones speak on what life was like in Bodie!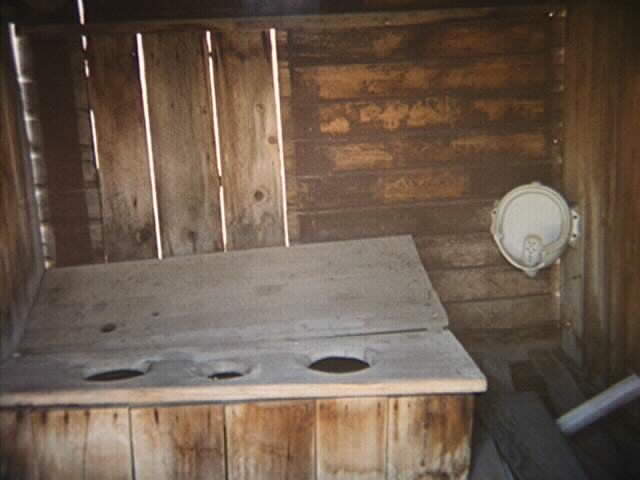 Sometimes, an outhouse for three is warmer than for one!
(modesty not included)
THE MENDOCINI HOUSE: There are a couple of interesting stories about this house. Rangers have reported of opening the house up after being closed for the winter and smelling a strong odor of fresh garlic (isn't Mendocini an Italian name?). Another ranger who lived in the house reported hearing a quiet party going on. He looked around and even went outside but couldn't find any party ongoing. Finally, he went back to his bedroom and yelled out "quiet! I have a lot of reading to do." and suddenly the room went quiet. At least they're polite.
One of the more popular stories has to do with something rangers do when they get bored. Apparently, it's common for rangers to go to the old caved in mines and throw rocks down them. Many are over 1000 feet deep. One day, a couple of rangers went over to the collapsed mine shaft that was 1,200 feet deep, straight down. They threw some rocks down the shaft and then heard a voice yell back from below, as clear as day, "Hey You!"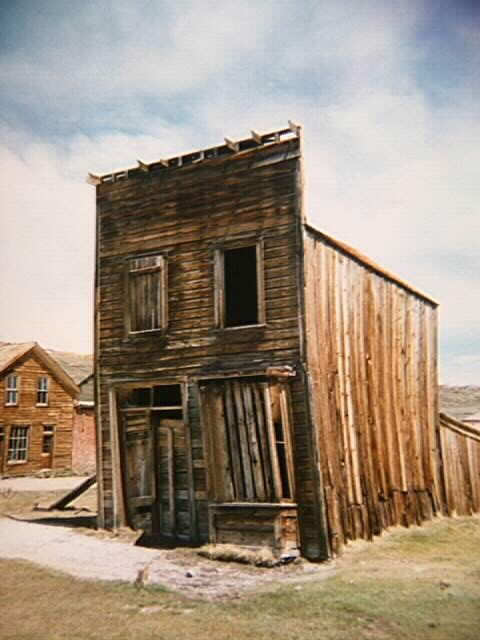 A very tired building!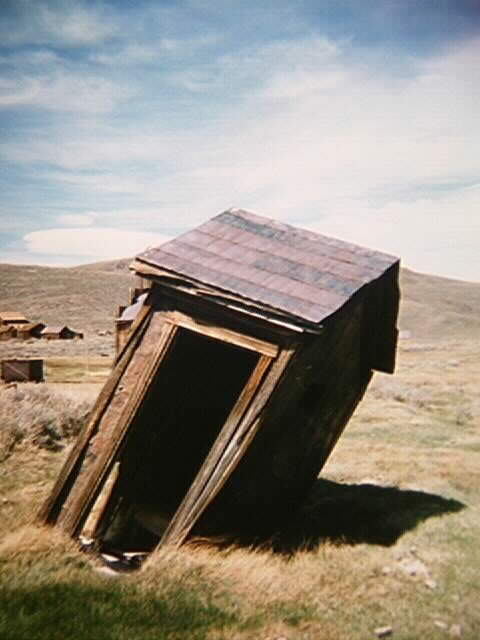 An equally tired outhouse!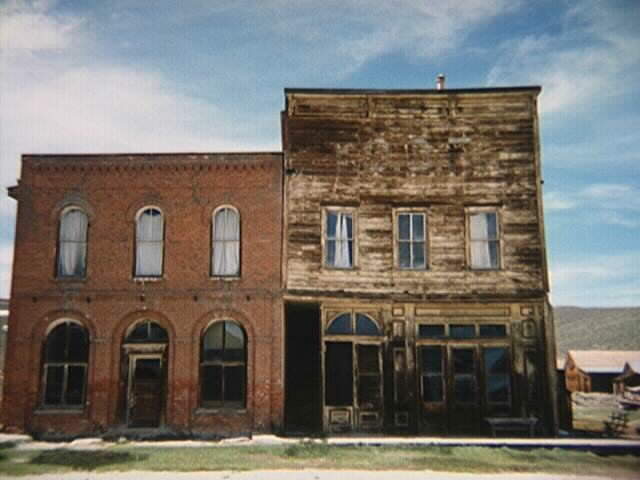 View north along Main street, Dechambeau Hotel (left) and the ODD FELLOWS LODGE (right),
was originally built to house H Ward's undertaking business in 1880.
The Odd Fellows Lodge is also said to be haunted. Many have reported hearing stomping coming from the second floor.
To the right of the Odd Fellows Lodge (not pictured), is the Miner's Hall, currently being used as the Park's museum. One tourist told a tale where he was standing in front of the museum when he kept hearing a little girl say "daddy". He looked around but there was no one around him. An even stranger story is that many have heard a piano play from the museum, even though there is NO piano in the museum. Perhaps there use to be???
How about a scarier view???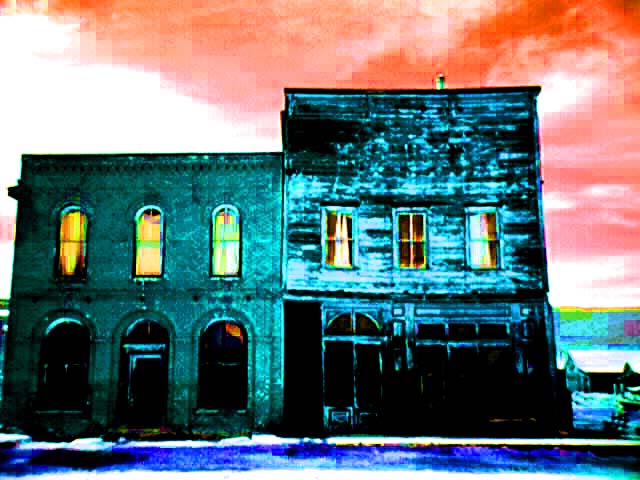 Notice the psychic energy eminating from the windows?
AND finally, there's the tale of the man who took revenge on his murders. The Lucky Boy Mine was the last to be shut down in the town, shortly after World War II. There were only about six people left in the town at the time. One night, everyone got together and had a big party and got real drunk. One man named Ed, shot his native American Indian wife to death. Three of the towns people were outraged and took the law into their own hands and beat the man and threw him into the creek that runs through town, and drowned him. Two months later, the man came back and was seen by the three men, waving his fist in anger. In the next three months, all three men died mysteriously; the third was never found and it's believed that his skeleton is still laying around somewhere around town, waiting to be discovered.

Bodie is a unique haunt from the past. If you get a chance to go, you may want to check out these other excelent web sites on the park.
If you have any comments or questions about this page on Bodie, please feel free to email me. But first, - RETURN TO GHOSTLY GUY'S PARANORMAL HOME PAGE -
PS. All photos taken by Ghostly Guy except as noted.