GHOSTLY GUY'S

PARANORMAL WEB PAGE
~~~~~~~~~~~~
Personal Submissions/Experiences
MYSTERY OF THE OCEANS!
---
On an amazingly clear afternoon around July or August of 1997, many people from San Francisco saw two enormous oddly shapped "things" off of their coast. They were so enormous, they looked like funny shaped skyscrapers. The Coast Guard received calls but claimed that nothing unusual was in their radar scopes.
If you live in the San Francisco Bay Area, do you remember seeing this? Many people do!
We're looking for explanations. This is your chance to tell us what YOU think this might be. Scientists welcome!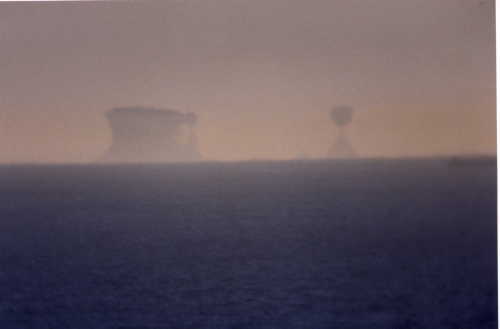 Note: the two images are to the right and left. One likes like a nuclear reactor with a bite out of the right side while the other looks like an hour glass. To give you an idea of its size, you'll see a black object to the very right of the photo. This is a full size cargo ship coming into view! ANY IDEAS???
---