WELCOME TO
GHOSTLY GUY'S
PARANORMAL HOME PAGE!


Welcome Ghost Fans! Welcome to Ghostly Guy's, paranormal world. We're interested in your paranoral experiences. Perhaps you lived in a haunted house, lived in a house you thought might be haunted, or had something unexplained happen to you, that you just can't forget. This is your chance to let others read about your experience. Just email us and we'll gladly publish your story on THIS web page.
So sit back and enjoy the experiences of others. And don't forget to sign our Guest Book when you're done so we know how you felt about the content and look of this web page. And if you have a personal experience you'd like to tell us about, please email it to us. We'd love to hear from you.

A PACIFIC OCEAN MYSTERY - can you solve what's in these photos?
CHICO HOT SPRINGS, MT- Percie continues to watch over her beloved resort from the grave!


MESSAGE / PHOTO OF THE MONTH:
Ghostly Guy's first Internet AWARD!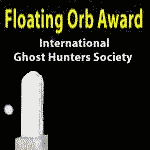 It was for the photo taken & submitted to us by Alex Stark of a ghostly object
floating over the stairs at the John Stone Inn in Ashland, MASS.
To see this photo, click here.
AND, here's our NEW Official Banner


Always

, of course!
(November/December edition)

SEE THE OFFICIAL MASCOT OF
GHOSTLY GUY'S PARANORMAL HOME PAGE!

If you have any personal experiences to send us, or would like to give us your feedback or have questions, please them to us. Consider signing our Guestbook too. Your comments count!

OR




SUPPORT NETSCAPE!!!


Number of hits since the fall of 1997: